Nowadays, your online shop has to have a mobile app for iOS and Android devices. In this article, we'll explain why it's a "must". To begin with, mobile apps are a modern trend, and buying via the phone helps people save their money and time. If your business still has no mobile app, you risk losing to your competitors.
Consulting agencies and brands research shows that a mobile app increases conversion and a purchase average cheque, helps support customer relationships, motivates them to make new purchases and recommend a shop to family and friends. According to the App Annie report, in the second quarter of 2020, users spent 40% more time in mobile apps compared to 2019.
Online sales have gone far beyond desktops. In 2018, online shops mobile traffic reached 64,5%. Besides, the US customers prefer mobile apps over e-commerce websites. According to the statistics, mobile e-commerce apps are much more popular than mobile websites.
Users choose apps as in-app purchases are more convenient and often more beneficial:
Users have a chance to buy goods in any place at any time.
Apps make goods and prices comparison more convenient.
In-app purchases save time the people could have spent on their trip to the shop.
Moreover, according to the National Customer Satisfaction Index (NCSI), customers who have made an in-app purchase are more satisfied with their procurement than customers who prefer a traditional offline shopping.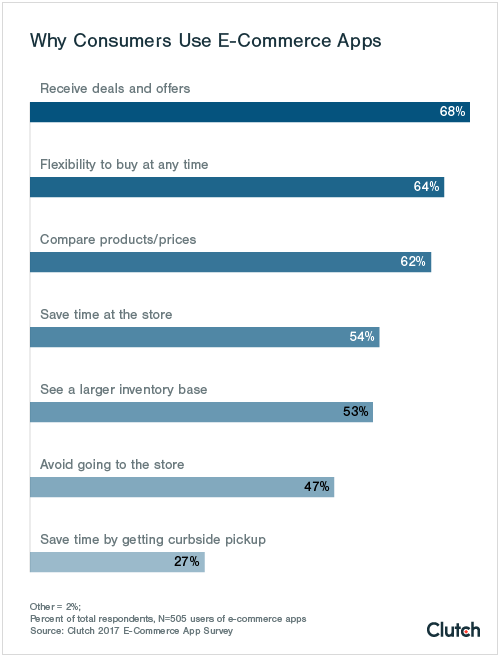 Therefore, as more and more customers buy things via mobile devices, the mobile e-commerce sector will keep developing.
However, according to the Internet Retailing data, only one out of ten sellers has a mobile app for online shopping.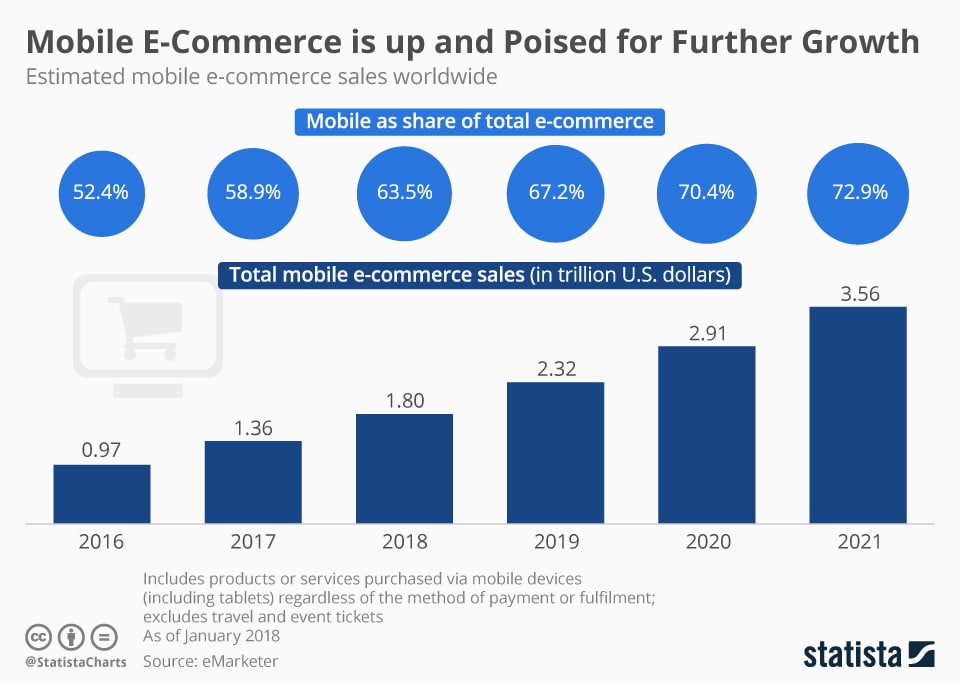 Why develop a mobile app for an online shop?
Convenience. You must admit that a mobile version of an online-shop is not always suitable for working on a smartphone. The reason for this is a poor design, small buttons and links, Internet-powered work only. Customers don't stay on such mobile websites for a while. A mobile app is a world of difference. It's developed with the adherence to software guidelines.
Notifications. When creating a mobile app for an online shop, mailing notification has already become a must. Through mailing, the shop informs potential customers about special offers, sales or new goods and can even communicate with a particular user or a group of users. Push-notifications are much more effective than e-mail or sms-notifications.
New audience. The users of mobile devices download apps from the Google Play Market and the App Store. If you have an online shop of Android and iOS, you'll get to these platforms and find first potential customers who are used to buying in online shops applications.
Sales increase. Year after year, desktops lag behind smartphones in the number of purchases made. Customers are much more eager to pay via mobile apps. Looking for extra sales? Develop a user-friendly mobile app.
Mobile Deep Linking. The Deep Linking technology makes it possible to redirect customers to a particular app screen via an sms or email through clicking on an ad banner and even through a link from Google search results.
Social media and messengers integration. Customers like to boast of new purchases or consult with their nearest and dearest as to the goods. This can be done through sharing options. This way, customers will come to you without any advertising costs on your end.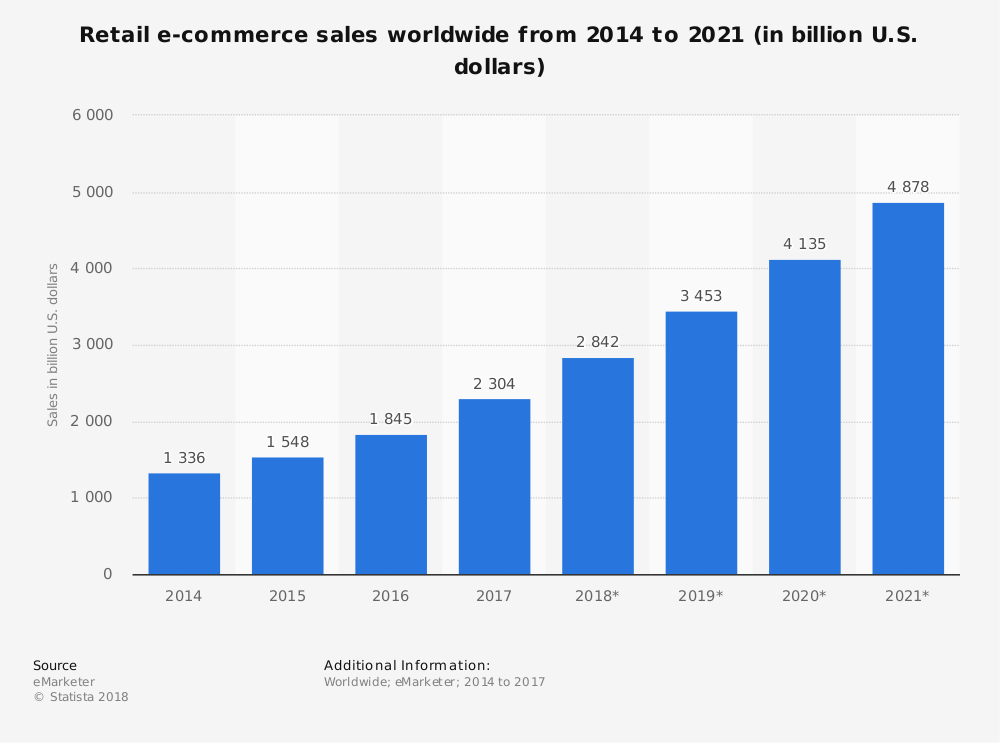 What do you get?
You get a mobile version of an online shop that can take and process orders from any mobile device. An obvious benefit of shopping apps is the set services and structure of traditional interfaces of a typical online shop.
A searchable catalogue.
A "smart" filter by goods and options.
Various types of payment.
Goods details.
Customer outreach via push-notifications.
Orders and views history.
Geolocation tracking.
Online shopping apps functions
In general, online shopping apps solve numerous tasks: engage into loyalty programs, track customer feedback, keep them updated on new arrivals and special offers. Mobile communication is more convenient – it's more interactive than email, and allows for transmitting more information. To enable an app to achieve your goals and to make it beneficial for the audience, make sure it contains the following screens and facilities:
User account. It stores purchase details, the location of the nearest shop that a customer finds comfortable to visit, contact details.
Browsing the catalogue. It's convenient to be able to easily and quickly find a necessary product; a full-text search and synonyms are available.
Goods recommendations. Personal recommendations depending on customers' purchases.
Shops map. The map displays all shops, and it's possible to choose the nearest one. If geolocation is allowed in settings, the app itself will suggest the nearest shop.
Loyalty program. The app makes it convenient for users to get updates on discounts and special offers, to take part in a personal loyalty program (to collect points, for instance).
Sending push-notifications to users. App notifications, especially if they target customer interests, always help establish appropriate contact. The main point is not to send them too often.
Online-delivery. The possibility of ordering home-delivered goods is now highly appreciated, which is particularly true with food and daily products. Some companies create separate apps to provide delivery.
Feedback. Opening a chat or calling an operator by clicking one button – users find it important to be able to leave feedback or clarify their order.
The functions can be expanded and upgraded through new releases: adding discounts monitoring, goods scanner, QR-codes, AR-fitting rooms, admin panel, support chat, CRM and other functions that will generate profit for your business.
A vivid example of a successful online shopping app is Amazon. On this platform, you can buy almost everything. The app gives users an opportunity to read the details about the goods they're looking for and go over previous customers' feedback.
Besides, the app features a goods comparison option. You can compare prices and check goods availability via a QR-code or a goods image.
Amazon users can pay for their order via a customer account or perform a one-click buying. Thanks to this function, customers make one-click buyings without adding goods to the cart.
Our team has long-term experience in developing mobile apps for online shops. One of the projects we developed was GetEver seeking to engage customers through making orders from a smartphone convenient, user-friendly and quick. The main goal of the project is to give registered users an opportunity to quickly order goods and indicate the desired time and place of delivery using locations saved to the profile. Besides, a registered user can browse their order history and get the details on each separate order.
Another project of ours was GetUnit, which sought to engage new customers. The goal of the app was to give registered users an opportunity to quickly order goods and indicate the desired time and place of delivery.
Our customers' projects demonstrate how the app increases shop's profit and builds a loyal audience around it. If you seek to normalize and stabilize your business, wish to enter new markets and find new sales channels, think about developing a mobile app for your online shop, and we'll be here to help you!